Milwaukee Airport Shuttle Service
Any taxi company can pick you up and drop you off. What sets Airport Service, Inc. apart is our drivers. Many have been working with us for decades. Respectful,
trustworthy and always on time, they know Milwaukee like the back of their hand. Combined with our comfortable Lincoln town cars, 15 passenger vans, and flat-rates, we are the easiest way to get around Milwaukee.
Call us today for an affordable ride! (262) 574-5800
Taxi Services Getting You Anywhere You Want to Go in Milwaukee and Beyond
Airport Service Inc. is your Milwaukee taxi and airport shuttle service connecting Southeastern Wisconsin and Northern Illinois to surrounding airports, hotels, events, and more. Airport Service, Inc. chauffeurs will pick you up from your home, hotel, or even street side in Milwaukee and get you to your destination on-time, every time. Airport Service, Inc is Milwaukee's transportation service you can rely on. Just sit back, relax, and enjoy the luxuries of chauffeured service with Airport Service, Inc.
The Airport Taxi Difference:
Flat rate fare based on your travel distance
No unexpected extra fees on drop off
No fees for luggage, waiting time or extra people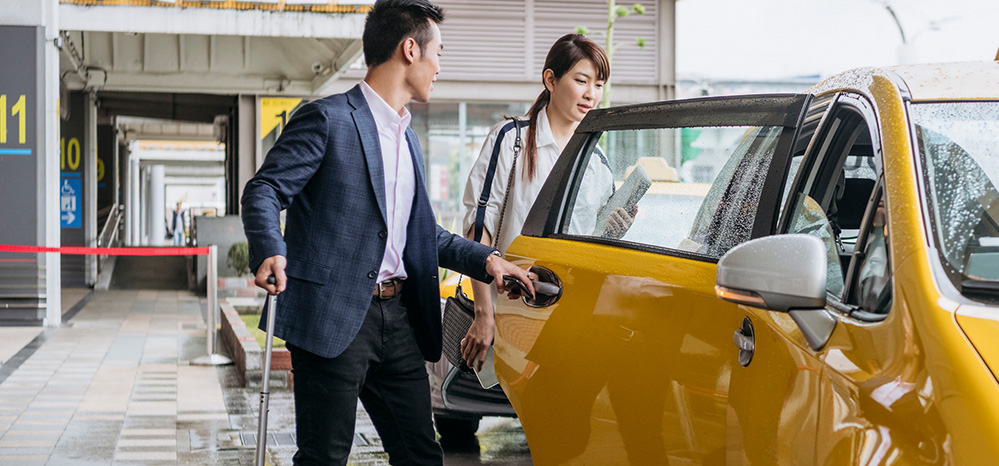 Airport Shuttle Serving General Mitchell, Midway, and O'Hare
Airport Service Milwaukee specializes in airport-to-airport travel connections going to and from Milwaukee and Chicago airports, bus stops, and train stations. With Airport Service Milwaukee you are guaranteed the best rates for prompt traveling from Milwaukee to Chicago. Our drivers will always arrive on time, so you can arrive to your destination on time. We pride ourselves on delivering the safest, most reliable taxi services in the area. Competitive pricing, flexibility, and reliable, on-time transportation services are what make Airport Service the best Milwaukee airport shuttle service.
Airport Transportation from Milwaukee to Chicago
At Airport Service, Inc., we know traveling can become very stressful. We are dedicated to making your airport travel connection smooth and easy. Our professional services eliminate the excessive wait time, stress, and hassle associated with other Milwaukee airport connection services. Airport Service, Inc. will get you to your destination on time, hassle-free. Where competitors may have you waiting for over three hours, our Milwaukee airport transportation services are prompt and efficient. Airport Service, Inc. will get you quickly on your way, whether you make a reservation or call once you land. With fast, affordable, convenient General Mitchell Airport shuttle service, it is no surprise Airport Service, Inc. is Wisconsin's preferred choice for group airport to airport transportation.
Going to Chicago O'Hare? Let Us Drive You!
Many business professionals, families, and frequent travelers have used our airport shuttle service from Milwaukee to Chicago. To experience our airport shuttle services, give us a call – let us know the time and location to pick you up, and we'll be waiting. Whether you're getting picked up or dropped off at Chicago Midway, O'Hare, or General Mitchell (MKE), we service all locations 24/7. Transportation from the Milwaukee airport and any other airport in or near Wisconsin is what we do.
From MKE to ORD and Anywhere in Between
Here at Airport Service, Inc., we are not your typical business or transportation service company. Most of our competitors aim to make money, regardless of the absence of integrity in their methods. Our goal is to give patrons exceptional service at exceptional prices. At Airport Service, Inc. we know what people want; to be catered to with accurate pickup times and affordable rates. We treat each customer well because that's how we want to be treated when calling for transportation services.
Shared Shuttle Airport Car Service from Wisconsin to Illinois
When you're flying with a group from Chicago O'Hare (ORD), Midway (MDW), or General Mitchell International (MKE), you need Airport Service, Inc. Your party will be picked up at the arrivals gate and dropped off on-time at your Illinois or Wisconsin airport.
We'll travel door-to-door in accordance with a precise, pre-planned itinerary, ensuring you and your travel buddies arrive with time to spare. Call us today to schedule our shared Milwaukee airport shuttle service.
Milwaukee Limo Service
More than just Milwaukee and Chicago airport shuttle service, Airport Service, Inc. connects you to the entire Milwaukee metro area. At Airport Service, Inc., we know you don't want to shell out a great deal of cash just to get from point A to point B. Our Lincoln Town Car and passenger van transportation prices are lower than other Milwaukee taxi transportation services—we don't charge extra when you want to bring a cooler, grill, and a duffel bag full of things to do while tailgating at the ballpark.
From Brewer games at Miller Park to all-night bachelor parties in downtown Chicago, we supply Milwaukee and Chicago transportation services to accommodate your specific transportation needs.
At Airport Service, Inc., we provide convenient door-to-door, 24-hour taxi transportation service to just about any destination. Airport Service, Inc. conveniently picks you up from and drops you off at almost any location our vehicles can access. Call Airport Service, Inc. today for discounted out-of-town shuttle service rate to anywhere.
General Mitchell Airport Town Car Pickup or Drop-off
Airport Service, Inc.'s Milwaukee town cars offer you a convenient and comfortable way to travel. Simply give us a call or use our online contact form to schedule quick, dependable car service for your arrival or departure. Your driver will know the area and speak English fluently, ensuring a hassle- and confusion-free experience. Let us navigate the congested traffic. Our drivers know the shortcuts around construction areas, best utilizing all the drivable roadways the area has to offer. Contact us today for more information on our anxiety-free Milwaukee airport town car service.
Affordable, luxury Milwaukee transportation service is just a phone away. Airport Service, Inc. offers you the best prices on reliable, on-time shuttle services taking you where you want to go when you need to get there.
Schedule Transportation to your Milwaukee Convention Destination
You won't be waiting around for Uber or Lyft. Our experienced Milwaukee drivers will pick you up from the airport and bring your hotel or AirBnB destination. A professional, full-time employed driver will always be the better option over a random stranger. Our drivers are familiar with the crazy one-way streets of downtown and know how to best navigate the Milwaukee traffic.
Airport Shuttle by Day, Milwaukee Taxi by Night
Whenever, Wherever, Airport Taxi will be There
Our team of Milwaukee taxi drivers provides exceptional transportation services throughout Southeast Wisconsin. We even venture into Illinois - a stressful and harrowing experience for most drivers. Luckily, Airport Taxi chauffeurs have impeccable driving skills and don't give into the road rage which runs rampant on the highways of Illinois. Arrive at O'Hare or Midway calm, cool and collected. We make traveling simple! From at-home taxi pickup to airport shuttle service, our qualified drivers will ensure you get where you need to be, on time and in style.
Wisconsin Luxury Taxi Service
Bar hopping for a buddy's birthday? All your friends flake out driving you to the airport? Rely on Airport Taxi Inc. to take care of you. We offer convenient taxi services throughout Madison, Milwaukee and to Chicago area airports. We even have group transportation services available, featuring luxury vans capable of carrying up to 15 passengers. We even provide shuttle service to Green Bay for Packers games, or to Miller Park to enjoy America's favorite pastime.
Our customer service is unbeatable, and we charge a low, flat rate. See for yourself why people throughout Milwaukee have been turning to Airport Taxi for affordable, on-time taxi services. Reservations are recommended, but if you're in a pinch, give us a call and we'll do our best to help!
To experience luxury for less, contact the best Milwaukee Airport Shuttle Service (262) 574-5800 or online.