Milwaukee Car Service Gets You There On Time
Airport Service Inc.'s Milwaukee Drivers Watch the Clock So You Don't Have To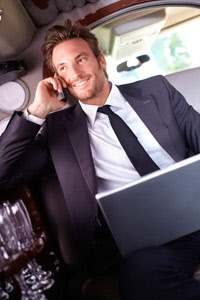 The professional drivers at Airport Service Inc. take promptness to a whole new level. We'll get you where you need to be – when you need to be there – anywhere in Southeastern Wisconsin or Northern Illinois. The destination and distance don't matter – whether it's a bus stop, train station, airport -- O'Hare (ORD), Midway (MDW), Madison (MSN), Milwaukee Mitchell (MKE), or Milwaukee Timmerman (MWC).
Comprehensive airport shuttle services are provided throughout Wisconsin including Green Bay (GRB), Wausau (CWA), La Crosse (LSE), Waukesha (UES), Racine (RAC), Kenosha (ENW) Rhinelander (RHI), and Eau Claire (EAU). Regional out-of-state airport shuttle services are provided to Moline/Quad Cities, IL (MLI), Bloomington, IL (BMI) and Rochester, MN (RST). We also offer transportation to Camp Douglas, WI (VOK) – the Wisconsin Air National Guard Base.
Being on Time Is the Most Important Business Principal to Milwaukee Cab Drivers
We live by strong business principles – courtesy, professionalism, flat and fixed costs with no hidden fees, well-maintained top-quality vehicles and safe, skillful driving. Along with those principles, timeliness is one of our most important characteristics. You're either on time or you're not. We'll get you there when you need to be on – or ahead of -- schedule.
The size of your group doesn't matter, nor does the number of pickup points or destinations. When we commit to a schedule, we keep it. We know promptness is important to you and therefore it's extremely important to our Lincoln Town Car or passenger van drivers. So if it's just you or your whole posse, Airport Service Inc. will make sure you arrive on time.
No other Milwaukee shuttle or taxi service can approach the promptness, professionalism or low price of Airport Service Inc.
Milwaukee Shuttle Service Eliminating the Stress of Travel
Travelling is stressful enough, especially business travel. When it's all on the line, you can entirely remove travel stress when you deal with Airport Service Inc.'s Milwaukee shuttle drivers. We'll pick you up and drop you off right on time. The price will be firm and affordable. Transportation will be completely safe and comfortable. All driving details will be handled professionally and calmly. If your trip involves special language skills, those will be provided. You'll find we provide the finest Milwaukee luxury town car service, complete in every detail. You'll arrive at your hotel or business location ready to do your absolute best.
For the finest luxury transportation service, contact the Milwaukee car service providers at Airport Service Inc. today.