Illinois Tollway commute keeping you up at night?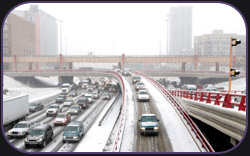 At Airport Taxi of Milwaukee Wisconsin, our main goal is getting you where you need to be on time every time. Being on time is important, but how about getting where you need to be stress free? Driving through Illinois traffic to get to O'Hare or Midway Airport's can be a nightmare at best. With Airport Taxi we take the stress and worry out of getting through construction, traffic jams, snowstorms, rainstorms and even the Illinois Tollway.
A ride to or from O'Hare, Midway or Mitchell International Airport's includes fuel surcharge, tax, AND toll fees in a flat rate 'not to exceed' price quote. The only thing not included is gratuity. So the next time you wake up sweating about your commute to O'Hare or Midway airport's in Illinois;
Call Airport Taxi we will get through the hectic commute on time, stress free and at a fraction of the cost of other Milwaukee taxi and shuttle services. 262.574.5800
---
News Update From: illinoistollway.com/portal/page?_pageid=54,2766296&_dad=portal&_schema=PORTAL
10/06/2010 Illinois Tollway Expands Customer Service Options in Rockford as Part of I-PASS Transponder Replacement Program
Mobile I-PASS Services Offered at Secretary of State Offices to Provide More Convenient Options For Swapping Out Old Transponders
DOWNERS GROVE, IL - The Illinois Tollway is expanding customer service options for the greater Rockford area in October through December to make it easier for customers to participate in the I-PASS Transponder Replacement Program and exchange outdated transponders at no additional cost.
Launched earlier this year, the I-PASS Transponder Replacement Program assists customers whose transponders are reaching the end of their effective life swap out the old transponders for new ones. The Tollway is mailing notification letters to approximately 3,000 customers in the greater Rockford area this fall whose I-PASS transponders are now outdated and need to be replaced.
"Replacing old transponders is a necessary step to ensure that customers continue to receive all the benefits of I-PASS and avoid potential disruptions in service or toll violations," said Illinois Tollway Executive Director Kristi Lafleur. "With more than 4 million I-PASS transponders in use, we're working to offer customers a variety of convenient ways to keep their accounts in good standing."
Transponders not replaced within 45 days of the date on the notification letter will be deactivated and continued use of that transponder will result in toll violations. I-PASS customers who do not receive a notification letter and have a properly functioning transponder do not need to replace their transponder at this time.
I-PASS customers who receive a transponder replacement notification letter can swap out their transponder during regular business hours at any Jewel-Osco store or Illinois Tollway Customer Service Center - including the Belvidere Oasis on the Jane Addams Memorial Tollway (I-90). In addition, the Illinois Tollway's Mobile I-PASS customer service representatives are scheduled to visit Illinois Secretary of State facilities in Rockford and Roscoe on select days from October through December.
I-PASS customers swapping out their old transponders must bring in the transponder that matches the serial number in the notification letter, as well as the letter itself, in order to receive a new transponder. The replacement transponder is ready for immediate use.
Excluding state and federal holidays in November, Mobile I-PASS customer service representatives will be available at the following locations:
Secretary of State Facility
3816 Auburn St.
Rockford, IL 61101

October 5 - December 28
Tuesdays
11 a.m. to 5 p.m.

Secretary of State Facility
3720 E. State St.
Rockford, IL 61108
Roscoe Village Hall
10631 Main St.
Roscoe, IL 61073

October 6 - December 29
Wednesdays 10 a.m. to 4 p.m.
11 a.m. to 5 p.m.
October 7 - December 30
Thursdays
Mobile I-PASS Services
Illinois Tollway Mobile I-PASS customer service representatives will also be available to help Rockford area I-PASS customers by answering questions about I-PASS and providing account management services. Customers will be able to:
Update account information - vehicle and license plate information, credit card, mailing address and e-mail.
Add money to an account or sign up for auto replenishment
Pay a violation
Test a transponder battery and swap out, if necessary
Learn how to use online account management at www.getipass.com.
I-PASS customers should bring their I-PASS account number or transponder number, along with relevant documentation regarding updated personal or vehicle information, such as current vehicle registration and driver's license or state identification card. Mobile I-PASS customer service representatives accept credit cards, debit cards and checks. Cash payments are not accepted.
About the Illinois Tollway
The Illinois Tollway is a user-fee system that receives no state or federal funds for maintenance and operations. The agency maintains and operates 286 miles of interstate tollways in 12 counties in Northern Illinois, including the Reagan Memorial Tollway (I-88), the Veterans Memorial Tollway (I-355), the Jane Addams Memorial Tollway (I-90) and the Tri-State Tollway (I-94/I-294/I-80).